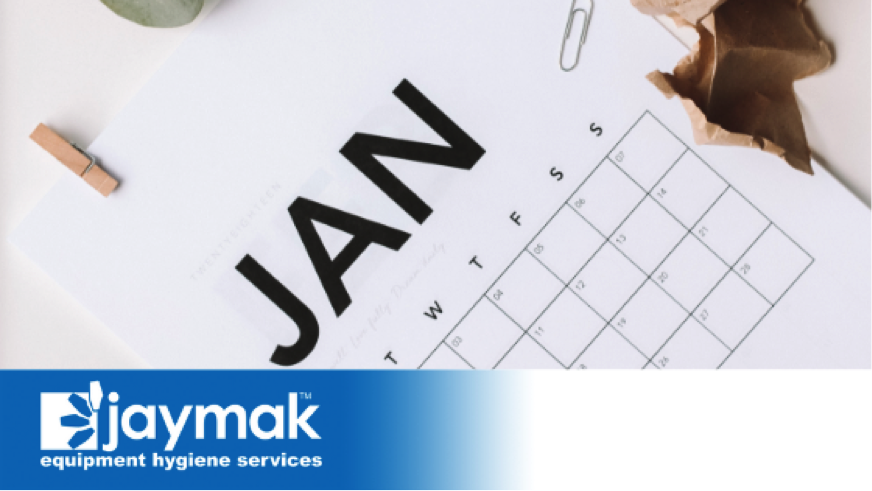 The Importance of having a professional cleaning schedule in a hospitality environment
Hospitality can get busy – getting food and drinks prepared and served in an efficient manner often takes priority over keeping things clean all the time. With public holidays and break times few and far between – and also often busier times in hospitality – it can be difficult to find time to set aside to have your work environment professionally cleaned. That's why it's worth planning ahead and having a professional cleaning schedule in place to make the most of any precious 'down time'. After all, can you afford to put your employees and customers at risk? Not to mention the reputation of your business.
An unclean work environment is a risk to you, your employee's and your customers.
There are a range of environments within a hospitality business that pose a potential risk to you, your employees and your customers if they are not cleaned on a regular basis. This doesn't only include the kitchen – Just think about all the nooks in your bar space, ice machines and ice bins that can easily harbour dirt, mould, and bacteria.
Did you know if not cleaned regularly, commercial kitchens can present a serious fire hazard due to an accumulation of grease and dirt? Not only can a hazardous fire like this put your customers and employees at risk. It could see your entire business go up in flames.
Dirt and debris in your work environment could also be acting as a food source for flies and other nasty pests (cockroaches, rodents, etc.). Don't forget any damp areas can allow for condensation, bacteria and mould growth, which can cause the contamination of food and drinks leading to illness outbreak affecting your customers and employees. The bad press from food contamination issues can destroy your businesses reputation in no time.
What about unclean equipment?
In a commercial hospitality environment, you rely on your equipment to help you serve your customers everyday but do you know how regularly they need to be cleaned? Not only is it good practice to keep your equipment running smoothly and safely and with maximum energy efficiency, regular professional cleaning is mandated in some cases. Read on for the details…
Dishwashers: Possibly the least obvious suspect in the kitchen, but regularly cleaning your dishwasher is crucial to ensuring it remains contamination free and keeps your cutlery and serving wear squeaky clean. In fact, the majority of food safety inspection breaches for commercial dishwashers result from low readings for wash temperature or rinse temperature. Excessive calcium/lime deposits can quickly build up especially with the "hardness" of Australian water, this places extra strain on your dishwasher and impacts cleaning ability and reduces energy efficiency. Dishwashers can also be a haven for harmful bacteria as well.
Coolrooms: They are easily ignored as we tend to spend the least amount of time inside of them as possible! However, mould can grow almost anywhere and on any surface as long as moisture is present. At Jaymak we use specialised cleaning products utilising colloidal technology, which break down mould at a molecular level. Plus, when this service is conducted every six months you will also receive a Certificate of Assurance with ISO22000 Food Safety Management compliance. And also, have you met Jayfresh? Click here to learn how Jayfresh can help proactively manage coolroom hygiene between scheduled cleans.
Ice Machines: If ice machines are not cleaned regularly and thoroughly they can cause the spread of nasty germs like Salmonella, Listeria, E. coli, Shigella and Norovirus. Disease-producing bacteria, including Listeria can be 1,000 times harder to eliminate if it is living in a protective biofilm. That's why ice machines should be carefully maintained and cleaned regularly.
Fridges/Freezers: You want to keep this equipment in tip-top shape, especially if they are on showcase to customers. It's important they are regularly cleaned to keep them running smoothly, with maximum energy efficiency and for food safety. As correct temperature can extend the life of perishable products as well as keeping beverages at the optimum consumption temperature.
Exhaust Canopies: Next time you're in your workspace, look up – is there grease covering your exhaust canopies? Not only will this grease impact the exhaust fan's ability to clear the air of cooking fumes, there are also a number of Australian Standards and International Standards pertaining to fire safety, duct-work relating to kitchen exhaust systems and the maintenance of these systems.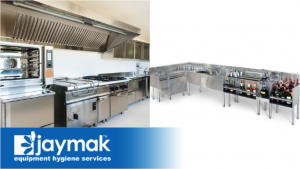 How do I ensure my work environment and equipment is cleaned on a regular schedule and meets regulation?
Jaymak can assess your entire work environment and all equipment and make recommendations on inspection and cleaning frequency. Cleaning recommendations are based on a number of factors including cooking volume, hours of operation, type of cooking being performed and any requirements by insurance, or other determining authorities, ensuring you, your employees and customers are protected. This also allows you to schedule in cleaning programs in advance and have a long term professional cleaning schedule.
Don't put the reputation and livelihood of your business in the hands of non-accredited cleaners. Jaymak is the only ISO 22000 certified company for specialised cleaning services to the hospitality and food service sectors in Australia. Trusting your cleaning needs to Jaymak will result in reduced fire and safety hazards, better efficiencies, and a sanitised work environment that meets Australian standards.
Book in a free consultation with one of our expert technicians who will be able to answer any questions you may have and provide an obligation free quote on 1300 529 625 or read about our products and services at www.jaymak.com.
Comments are closed.