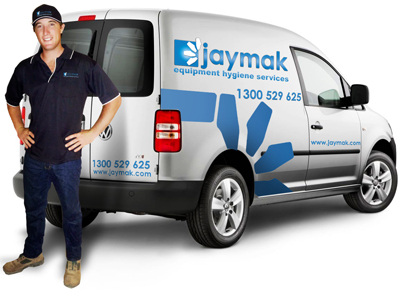 Own a Jaymak Franchise
Want to be a part of a fantastic franchise network?
Well..It's as easy as 1…2…Jaymak!…… If you're ready to take the next step!
If you are ready join our successful franchise system and to BE YOUR OWN BOSS, call Jaymak today to receive your complimentary Franchise Information Package, which includes a presentation outlining the results of Jaymak's services, a detailed map showing the territory of your interest and a summary of the exciting low turnover, high margin business you have enquired about!
Why wait?…No, really!…..If you think you've got what it takes, don't hesitate as there are only 22 territories left for sale in Australia. Call Jaymak today and find out more about this fantastic business opportunity!
From the Managing Director
"I love this business and I love what we do. Our head office team are always willing to support any member of our network and will go out of our way for the franchisees. We also have a great group of experienced franchisees that are always willing to share their knowledge and help out all new franchisees joining the Jaymak family."
Mark Mackenzie
Managing Director
Apply Today
Franchisee Testimonials
"Working as part of the Jaymak network has brought me the independence to grow my business with assistance from the team at head office, great operational advice, usage of the trusted Jaymak brand and access to their tailored service system. This makes my life easier so I can focus on growing my business across the state. The progress of the business across all sectors has been spectacular including hospitality, health care, industrial and food processing. In only a few short years, I have been able to grow my business tenfold. In an environment where hygiene is top of mind, this is the business to be in!"
Tony – Jaymak Franchisee, Tasmania
"I have owned my own Jaymak franchise for a few years now and the assistance I have received from our parent company has been helpful in developing my business goals and drive business growth. When help is required, I just have to ask and there is a whole Jaymak network of franchisees to assist along with head office. I find it particularly rewarding when we receive good testimonials and referrals from our happy customers which helps drive business growth as well."
Washington – Jaymak Franchisee, Sydney
"Located in New Zealand, I am one of the newest franchisees to join the Jaymak family. I am particularly happy with the support system provided by head office and the other franchisees. For a business of this size, the dedication to constant improvement of the already great systems in place is impressive and the future improvement plans are very exciting. There is a long history of past learnings to draw from and the attention to detail makes it easier to run my business. The people at Jaymak in Australia are great to deal with and work/life balance is a top priority."
Andy – Jaymak Franchisee, Christchurch NZ