Mould & Bacteria Control
AS4709-2001 guide to cleaning and sanitising plant and equipment in the food industry states that:
"The 'ideal' sanitiser would be active at low concentrates on all micro-organisms, have low toxicity to man, be non-corrosive to food equipment, impart no flavours or taints to the product, be stable as a concentrate and be economical in use".  Jaymak's D-MOULD is just that and more.
AQIS approved under category 26 for use on refrigeration units and as a lubricant Type B for use on meat hooks and rollers in Export Registered Meat Establishments.
A listed approved product (Certification No: 9804PL) by the National Association for Sustainable Agriculture (NASAA Certified Organic). Being an approved product ensures our organic integrity and verifies our support for sustainable agricultural practices.
The most recent testing in 2012 with the Food & Water Testing Division of Sonic Healthcare Ltd. was to investigate the effectiveness of Jaymak's decontamination procedure for sanitising and protecting coolroom surfaces against 5 major microorganisms and bacteria.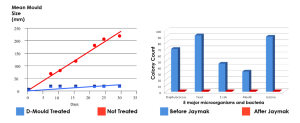 The results on the left show NO SURVIVAL of the 5 species tested after the Jaymak procedure for coolroom hygiene.
DOWNLOAD BROCHURE