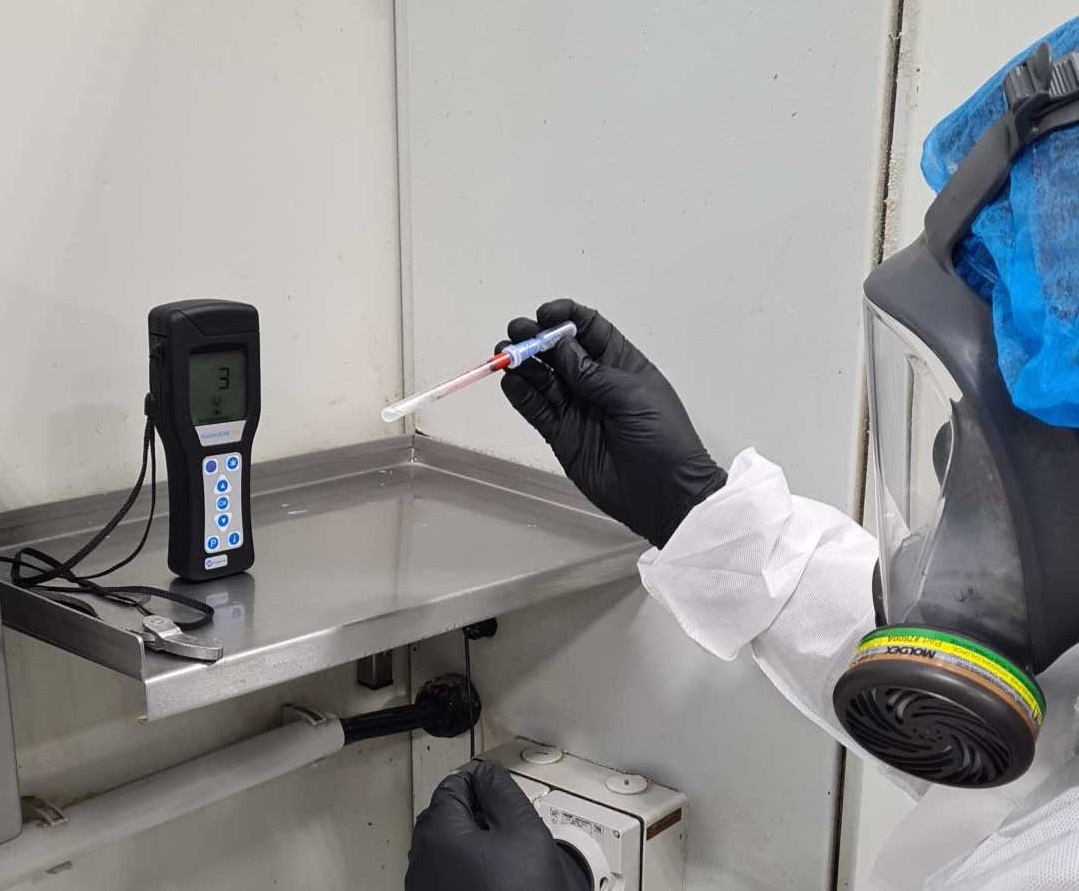 This is an update of an article that we published in March 2020. As the COVID-19 situation has evolved since then, as has the methods of combating it. Time has provided us with the ability to further develop our own product, Hygiene Shield Coviclean, for use against SARS-CoV-2. Hygiene Shield Coviclean is TGA listed AUST L343510 and has a proven 30 sec kill time against COVID-19.
Does your organisation have a viral outbreak maintenance or decontamination plan?
Jaymak can help.
As certified cleaning professionals, we're here to help you develop and implement a response suited to your business' needs. Just give us a call on 1300 529 625 or email sales@jaymak.com.au
Jaymak has a number of years' experience undertaking disinfectant fogging and we have changed our primary disinfectant agent from Chlorine Dioxide to Hygiene Shield Coviclean. This is to allow for safer, quicker and more effective provision of our disinfectant decontamination processes and touch point cleaning.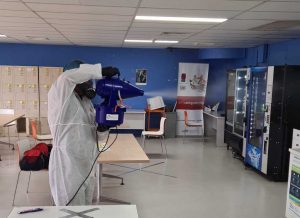 The microbiocidal spectrum of Hygiene Shield Coviclean covers gram-positive and gram-negative bacteria, viruses (including Coronavirus), yeast and fungi. Our decontamination processes include:
A fixed full day rate regardless of the number of rooms or weekend/weekday work.
Supply of equipment and consumables to decontaminate each area:

Sealing of vents, doorways and other building facilities as required (to be confirmed upon site evaluation)
ULV Fogging/Misting system for the delivery of Hygiene Shield Coviclean aerosolisation (2.5 micron aerosolisation).

ATP Testing as standard validation included (particle count validation options)
A full documented report to certify and validate the treatment process.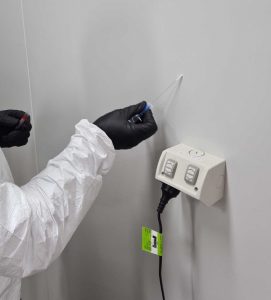 While COVID-19 has been a heavy focus over the last 18 months, it is important to keep your team, business and customers safe from other viruses, bacteria, yeasts and other harmful organisms at all times. Hygiene Shield Coviclean can help with this. Click here to purchase Hygiene Shield Coviclean for your own touchpoint cleaning in between certified services.
Jaymak are here to help you. Give us a call on 1300 529 625 or email sales@jaymak.com.au to learn more.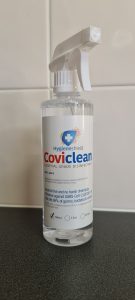 What is Hygiene Shield Coviclean?
Hygiene Shield Coviclean is a pH neutral surface active disinfectant that is TGA listed AUST L343510. It contains no aldehydes, active chlorine or alkalies. It is biodegradable and Australian made. Hygiene Shield Coviclean is effective for fogging, spraying and wet mopping for effective disinfection. Hygiene Shield Coviclean has achieved a 99.99% microbial inactivation for SARS-CoV-2 (COVID-19) after just 30 seconds contact time.
Hygiene Shield Coviclean also conforms to Boeing Specification Support Standard (BSS7434) for Chemical Compatibility of Cleaning Products and Interior Parts/Materials of Commercial Transport Aircraft. This means that Hygiene Shield Coviclean has passed various corrosiveness tests that indicate that it does not corrode surfaces including vinyl surfaces, painted surfaces, fabric, leather, sealants and rubber.
Why is fogging and touch point cleaning with Hygiene Shield Coviclean better than regular disinfecting?
Cleaning reduces soil load and biofilm which is an essential part of disinfecting. However, regardless of how well you clean, it is nearly impossible to remove all microbial loads from surfaces and in the air.
As an additional treatment to physical cleaning and disinfecting methods, a facility can be fogged to provide whole room decontamination, including hard to reach areas through opening drawers, cabinets and enclosures, as well as changing the angle of application in order to maximise contact areas. Fogging also minimises the need to use ladders and access equipment to disinfect elevated furniture and equipment.
Fogging and touch point cleaning is effective for maintenance and decontamination of SARS-CoV-2 across:
Hospitality and food services
Medical and health care, including hospitals, aged care, and medical centres.
Educational institutions such as schools and universities.
Sporting and community clubs and gyms.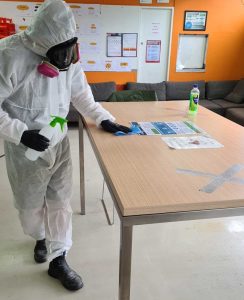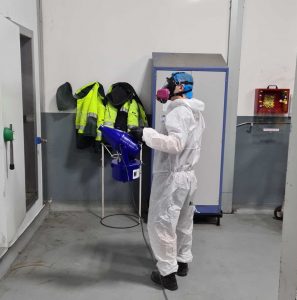 The top 10 things you need to know about our fogging service if there is a suspected or confirmed case of COVID-19:
What is the lead time or protocol for Jaymak's touch point cleaning and fogging services?
Our key COVID representative will be in contact with you within 1 hour of you calling 1300 529 625 and we will have a Jaymak team mobilised and on site ready within 12 hours
What do I need to do to prepare for a fogging service?
Cleaning is an essential part of disinfecting and significant organic load and biofilm can inactive the disinfectant or reduce its effectiveness. Cleaning reduces the soil load, allowing the disinfectant to work as designed.
In many food production and manufacturing facilities, the evaporator coils need to be inspected and cleaned first before they can be fogged with disinfectant.
Time is particularly important in the response to an outbreak situation so it is important that your equipment hygiene is maintained through a preventative maintenance program at all times so there is minimal preparation work needed prior to disinfectant fogging and touch point cleaning.
Does the site need to provide any specific equipment or personnel?
No. All equipment, service technicians, and consumables are provided and managed by us.
Can we leave food open in the facility or can people be present when you are fogging?
No. While Hygiene Shield Coviclean is suitable for use in food areas, it should not be applied directly onto food. All food should be removed if possible or securely covered and protected.
We require no other people to be on site when the fogging is occurring. This is to ensure that safe operating procedures are followed. However, the site will be ready for people to re-enter within 30 minutes after fogging is completed.
Do you need to review our site map?
Yes. Site maps are required and will need to be provided prior to commencement of work.
What about flight issues and compulsory isolation if I'm interstate?
If there is a confirmed or suspected case of COVID-19 that needs decontamination, Jaymak personnel are deemed an essential service under the Essential Services Act.
As a company, Jaymak have trained hygiene specialist in both metro and regional areas of Australia so travel across state lines is not a requirement.
When should the service be carried out?
Electrostatic fogging services can be conducted as often as required by the site and situation. During peak flu seasons, sensitive facilities such as education centres may need to increase their service frequency to maintain hygiene standards.
How soon can a space be safely used after an electrostatic fogging disinfecting service?
When the process is carried out on a weekend, the facility would be available for normal operation on the Monday morning. In most cases, it only takes minutes before the area is safe for re-entry.
How long does the service last on the treated areas?
The services lasts as long as the space is not reinfected with bacteria and/or viruses.
If you suspect a space becomes reinfected, then we recommend an immediate follow-up fogging and touch point cleaning service.
How often should the service be conducted?
We highly recommend at a minimum that a preventative disinfectant or decontamination process is performed in food production and manufacturing, healthcare and aged care facilities for infection control management every 12 months. For food production sites, this can be performed over a weekend period to minimise the disruption to business operations.
The site must be vacant during the service and all air conditioning units and fans must be shut off until the space is reoccupied.
Comments are closed.