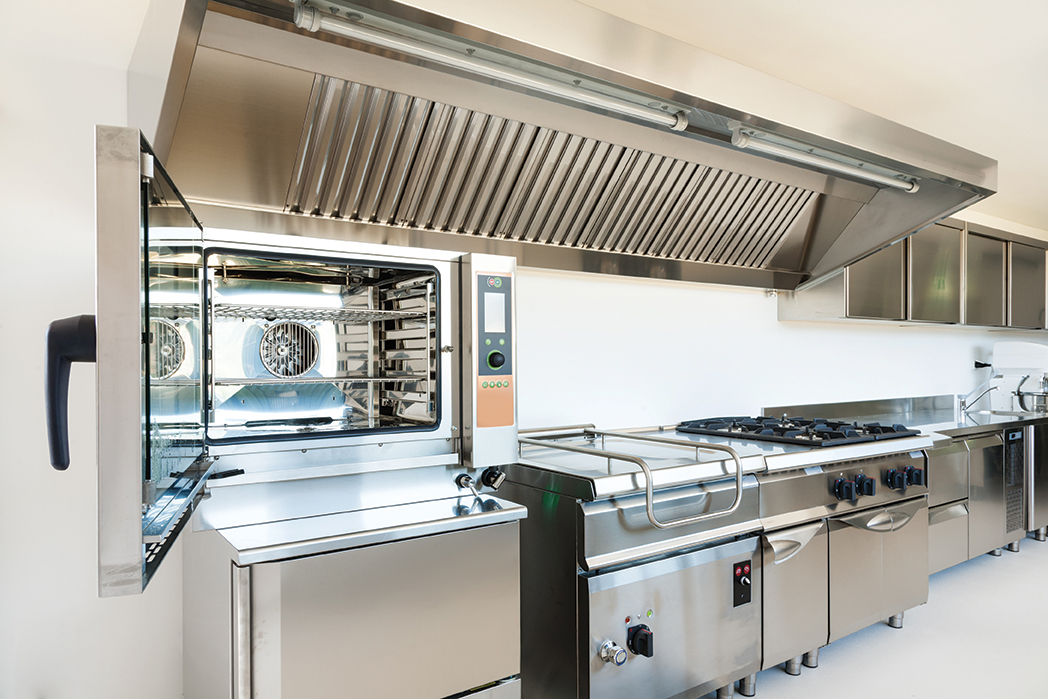 A commercial kitchen, big or small, is a hive of activity and over the course of just one day can feed hundreds, and sometimes, thousands of people.
To prevent the spread of bacteria, which can lead to sickness or even an outbreak of food poisoning, it is very important that the kitchen environment is keep clean, tidy, sanitised and in order.
However, how do you achieve this with so many people and so much activity going on in and around its confines?
In this blog we outline some simple yet effective ways through which a commercial kitchen can ensure it remains clean, fresh and sanitary.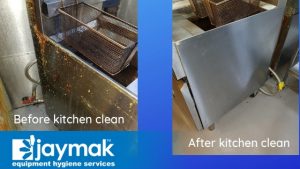 Employ proper hand and food handling hygiene practices
It may seem simple, but hands are one of the most common ways via which germs and bacteria are spread.
It's good practice to insist that all people working in a position where they touch or handle food should know firstly, how to properly clean their hands and secondly how often and when they should do this. For example, when commencing a shift or returning to work from a break, before and after handling raw food, or after touching anything that may have been exposed to germs.
In addition to this, it is good practice to provide sanitised gloves for all people that are handling food to use while working and make it common practices to dispose of gloves after use.
These simple food-handling practices go a long way to keeping food practices within a commercial kitchen hygienic.
Adhere to Use-By Dates
Perishable products usually come with "use-by" dates, which are based on scientific testing. These dates indicate approximately how long items will remain safe for human consumption. If a food is consumed after the use-by date, it could be unsafe to eat, even if it looks and smells normal and has been stored correctly.
Therefore, it is excellent practice to routinely check each product for its use-by date and to discard those that are close to or at their limit.
Keep foods chilled at the right temperature and consistently
Keep all food refrigeration set below 5°C to ensure that foods remain chilled to a safe temperature. Keeping foods at the right temperature during periods of storage can ensure that harmful germs are not permitted to grow and multiply. To ensure that refrigerators are able to achieve this temperature, it is important to make sure that they are not overfilled, as there should always be enough room for air to circulate to maintain the correct temperature.
In addition to this, it is good practice to regularly have refrigerators serviced to ensure the seals on them are working correctly and that staff in the kitchen close the doors properly and return foods to the chilled environment quickly after use.
Take measures against nasties and unwanted pests
By taking steps to protect against insects, bugs and other unwanted pests, a kitchen has a lower overall risk of contamination. Regular professional checks, proper waste disposal, storing food off the ground, having secure bins, and maintaining the security of walls, windows and doors, are all ways to keep these unwanted visitors, and their germs, out!
Invest in staff training as Food Safety Supervisors
Training one or more staff members as Food Safety Supervisors is one of the best investments you can make for the future of your food business.
Having key people with the knowledge, experience and responsibility to design and manage a Food Safety Program can protect your customers, improve kitchen efficiency, and reduce waste. It is also a great advantage for any food business looking to deliver a premium product or service in a clean environment.
Sanitise, don't Just clean
Kitchen equipment and surfaces need more than just washing or wiping over – they need to be made as sterile as possible. Sanitising each surface will help to ensure that that bacteria numbers are reduced to a safe level. There are two effective ways in which to sanitise a surface or environment – either with a chemical agent or with heat. This takes cleaning that one step further and provides a longer lasting protection against potential contamination.
Employ a professional
To achieve the best results in kitchen sanitation it's best practice to employ a professional hygiene professional service on a regular scheduled basis. Specialist cleaning professionals, like Jaymak, have the right products and equipment, skilled technicians and the best resources to ensure a thorough service and clean of all visible and not-so-visible kitchen spaces, ensuring a completely clean environment, free of harmful germs and bacteria is achieved.
It is also worth ensuring that the service provider you engage has appropriate training and accreditations to undertake the services to ensure your job is compliant and certified where necessary.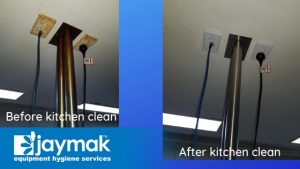 About Jaymak Australia and their full kitchen clean service
Jaymak is a national franchisee network that provides professional cleaning and hygiene services including the cleaning, sanitising and maintenance of professional commercial kitchen environments and the equipment and assets used within these spaces.
We are the only Australian ISO accredited provider, and we are very proud of this status. It sets us apart from all other hygiene and cleaning specialists in the Australian marketplace. After gaining ISO 9001/22000 accreditation in 2006, we have expanded our cleaning and food safety management systems, which have provided us with the ability to provide a unified national and international standard in hygiene cleaning for all of our clients.
A full kitchen and canopy clean by Jaymak will result in a cleaner work environment, reduced fire and safety hazards, better efficiency and ensure your business meets Australian standards and compliance with insurance.
Please do not hesitate to contact one of our expert technicians who will be able to answer any questions you may have and provide an obligation free quote on 1300 529 625 or read about our products and services at www.jaymak.com.
Website, journals and articles that have been referenced in this blog
https://www.foodsafety.com.au/resources/guides/how-to-keep-your-commercial-kitchen-clean
Comments are closed.