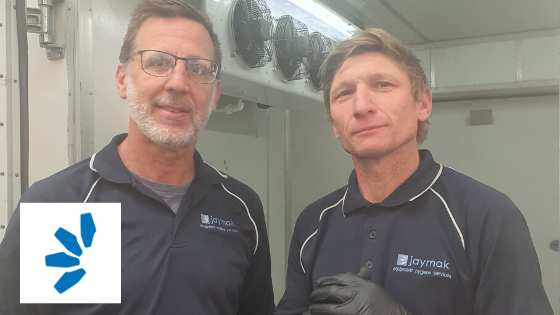 Meet Andy Darragh and Malcolm Tomlinson – Jaymak's newest franchisees – in Christchurch, New Zealand!
South Australian business success story Jaymak Australia has taken the next step and opened its first international franchise in Christchurch, New Zealand.
New Zealand franchisees Andy and Malcolm are experienced with chlorine dioxide based slow release mould and bacteria abatement systems, like Jaymak's Jayfresh and specialise in sterilisation using fogging, which makes them a perfect addition to Jaymak's business.
Jaymak founder and Managing Director, Mark Mackenzie says: "After extensive research, we introduced Jaymak into the Australian market more than 20 years ago when we identified a need for a company to offer hygienic cool room solutions and risk minimisation to the food and beverage industry."
Mark continues, "We are delighted to now bring our years of industry experience to the New Zealand market, supporting the launch of our newest franchise in Christchurch… and we're thrilled to welcome Andy and Malcolm to the Jaymak family!"
Jaymak's New Zealand franchisee, Andy Darragh says: "Malcolm and I have been doing mould remediation and antimicrobial work together since 2014. Our main tool has been Chlorine Dioxide which is the same gas released by our Jayfresh pouches, just in larger doses and bigger rooms. We also have experience with commercial fogging of antimicrobials and evaporator cleaning and have added services including exterior Elevated Working Platform (EWP) work of gutter cleaning and pressure washing of these commercial facilities."
Co-franchisee, Malcolm Tomlinson added: "Jaymak's systems and ISO accreditation were really important to us when buying a franchise, because we knew how important this is to our target audience – the healthcare and hospital sector."
The Jaymak Christchurch franchise opened in October 2019, with very strong performance in its first month of operation.  They have already serviced a number of key Christchurch businesses including Burwood Public Hospital, which is the first of the 18 Canterbury District Health facilities that the team is set to service.
As well as the hospital and health care sector, Jaymak NZ is also servicing the food services sector.  Clients such as The Great Escape Café, Burwood and Golden Mile Tavern are singing Andy and Malcolm's praises, with The Golden Mile saying that Malcolm's work was exceptional and in all their years in business no-one has reached the level of cleanliness and hygiene standard achieved.
Jaymak was founded by father and son team, Peter and Mark Mackenzie, in 1998 and is a professional and accredited equipment hygiene services company, developing and implementing the highest quality preventative maintenance programs and ensuring clients' needs are met to the highest standards.
Jaymak is the only ISO 9001 & ISO 22000 certified company in Australia for specialised cleaning services to the hospitality, health care and food services sectors.
Since its launch, Jaymak's committed and innovative family team has taken the business from strength to strength.  Jaymak has achieved continuous growth throughout Australia and now has 19 franchised businesses servicing every state and territory nationally. Together, these franchisees service over 6000 venues across Australia in a wide variety of industries including: hospitals, aged care facilities, restaurants, take-away food outlets, hotels, clubs, educational institutions, school canteens, butchers, bakeries, food manufacturers and many more.
Having celebrated its 20th anniversary in Australia last year, Jaymak has really come of age in 2019, expanding into the New Zealand market with its first international franchise in Christchurch.  What a success story!
Comments are closed.